November ULAS Update
Thank you to everyone who participated in our Spooky Saturday dance, it was a blast! We hope to see you there next year.
Parent watch night is scheduled for the week of December 12-14 - so for the last few minutes of class, our instructors will invite us to see how our children are progressing through their dances. This will also be costume hand out night, so bring your dance bag if you have one (we have ones to lend you).
Also, please bring your refundable deposit, written to ULAS memo costumes, and we will return it to you when you bring back your costume. $100 per costume.
Finally, we're selling black St. Basill's Dance T-shirts and hoodies to raise funds for our competitions AND to advertise our school when we're out and about. Click the link to go to our store to shop now. November 29 is the last day to place your orders, sooner is better. Thanks for participating!
October ULAS Update
Wednesday dance groups - you're welcome to wear a costume to dance on October 26!
Spooky Saturday Halloween Dance!
Tickets are available in our store:
Menu bar above OR click the "Shop Now" button
Dance Only Ticket for Adults and Youth are available. Children under 5 are free.
Mock-tails will be available for purchase. Buy your tickets before October 28 cutoff. No tickets will be available at the door.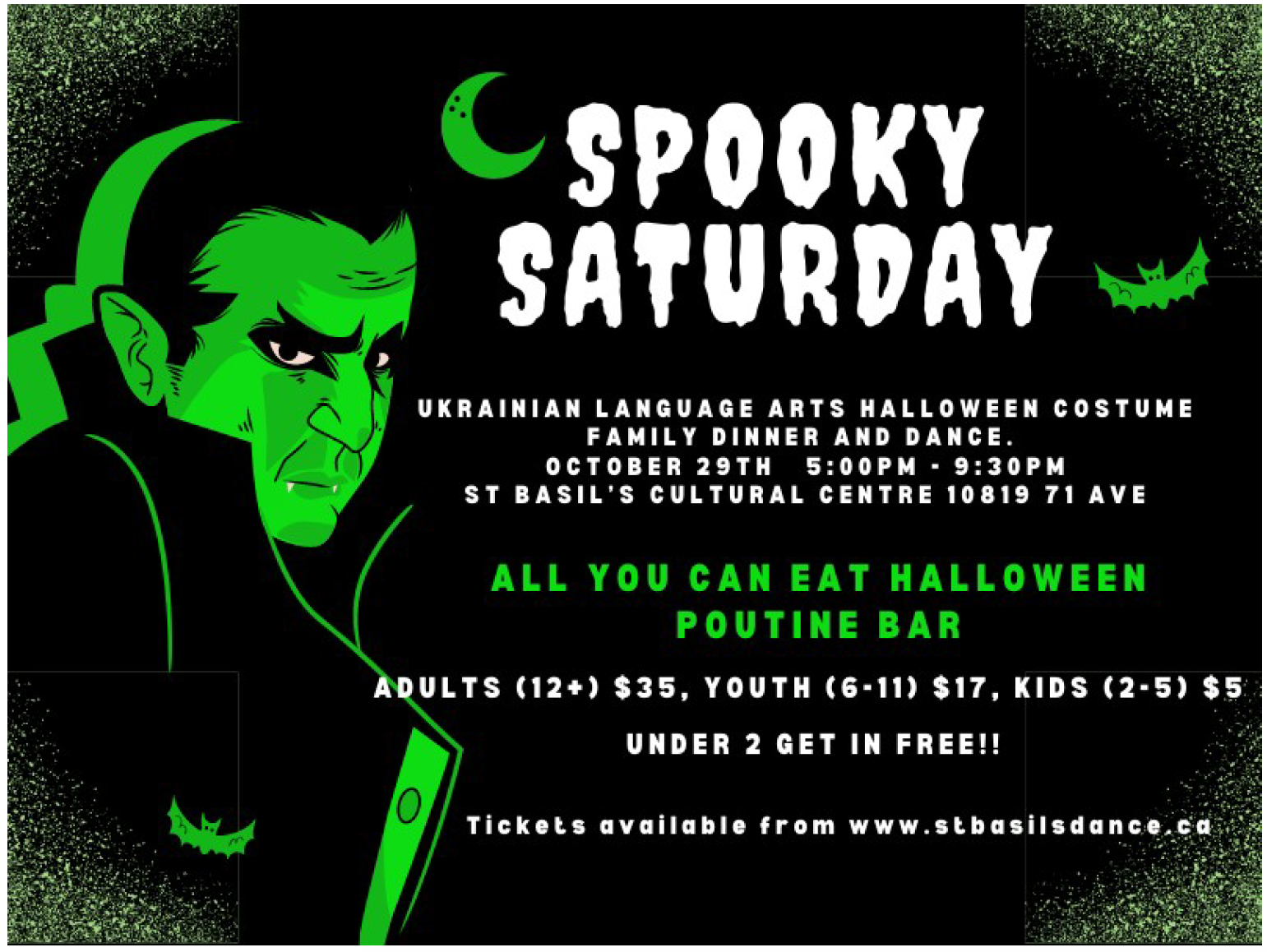 Thanks for attending our AGM. Welcome to our new board members.
Welcome to our new volunteer coordinator, secretary, Kupalo Dance Director!
Our new meeting night for board meetings is Thursdays, if you ever have questions or would like to sit in on one, please reach out.
This week (October 17, 18, 19) we will be creating our Art Cards for Kids projects, with the help of the Kusiek Family. Please bring markers or pencil crayons, or wax crayons and parents are welcome to help their children with their designs. We will use the first 10 minutes of each class and then please consider staying for a few minutes after your class to finish them up.
What we will do is send these posters in to Art Cards for Kids, we will obtain proofs (sample cards) with a website and access code to order cards and puzzles and plaques and Christmas ornaments for friends and family. St. Basil's Dance will earn 40% in value on each purchase, so please, consider these your Christmas cards this year and multi purpose beautiful blank on the inside cards.
Please bring markers or pencil crayons, or wax crayons and parents are welcome to help their children with the artwork. We will use the first 10 minutes of each class and then please consider staying for a few minutes after your class to finish them. We won't be sending any home to complete.
WELCOME to another season of Ukrainian Dance
Newcomer and Financial Assistance Scholarships
The Ukrainian Language Arts Society (ULAS) has offered full tuition scholarships for dancers at St. Basils School of Dance and Kupalo for the 2022-2023 dance season.
We have selected families who have recently immigrated to Canada and who demonstrate financial need. Through this program we hope to build community and help newcomers to have positive recreational experiences thanks to our generous donors.
Our dance season runs from September 2022 to May 2023.
Dance classes are ONCE A WEEK on EITHER Monday, Tuesday, OR Wednesday evenings.
All classes take place at St. Basil's Cultural Centre in Edmonton at 10819-71 Ave NW.
There are performance opportunities throughout the year (winter concert, year end concert, festivals, etc.)
Costumes are rented to all dancers and returned at the end of the season.
Annual General Meeting Invitation
Each family please send one representative our virtual AGM. We promise to keep it short, sweet, and helpful! You're invited on
Thursday, October 6, 2022 at 7:00PM at St. Basil's Cultural Centre
The volunteer executive board positions are up for election each year, so if you have a little time, a little motivation (registrations, meeting minutes, casino, event planning) no experience necessary. We would love extra hands for a smooth year.
New Registrations
Our new registrations packages are live! Our NEW Schedule and Tuition page is up-to-date.
Year End Show
Thank you to our awesome instructors, Trish and Stephen, for preparing the students for performing infant of their family and friends. We had a beautiful morning, a beautiful lunch - thank you to St. Basil's Cultural Centre for our first perogy lunch in a long time!
UFest
Keep the weekend of May 28, 2023 open for participating in this awesome Ukrainian cultural event.
ULAS St. Basil's Dance Hoodies & T-Shirts
We have Russel T-shirt sizers for trying on. They're black and there are two versions, more fitted and less fitted.
Anyone can order, including for other supporters (grandparents/alumni) who'd like to buy or gift them too... we are just figuring out prices and then these will be available in our store for purchase until Wednesday November 2, to ensure a delivery before Christmas.
I'll put these for sale in our website store as soon as possible.
You can also order black RUSSELL hoodies with white logos - $38 for adult sizes or $35 for youth sizes, price includes GST with a zipper or $36 and $34 for a hoodie without a zipper.
Please like us on Social Media (Instagram and Facebook). This is our main method of advertising, and more interaction means a wider range of people will learn about or organization. We also need as many positive Google Reviews as possible.
New dancers, we'd love to have you. Contact Our President Lynne if you have any questions.
Fundraising
Please continue collecting refundable containers. Download this free app we've signed up with and you can Skip the Depot.

Our website can advertise for you. Make a one time $100 donation to ULAS and we'll host your logo and website link on our site.
Email our website coordinator. See the St. Basil's Cultural Centre ad for an example.