Thank you for another beautiful year of dance!
New Registrations
Please watch for our new registrations packages to be live in late July. Have a good summer everybody!
Year End Show
Thank you to our awesome instructors, Trish and Stephen, for preparing the students for performing infant of their family and friends. We had a beautiful morning, a beautiful lunch - thank you to St. Basil's Cultural Centre for our first perogy lunch in a long time!
UFest
Saturday May 28 for the dancers in Vesna, Sontse, Kalyna. They performed so so well and we were proud to be on stage for such a spectacular event. If you didn't get to check out our performances and the cultural events during the days and the awesome concerts, be sure to mark your calendar to attend next year.
Veeteretz
WOW! ULAS Dance Students knocked our socks off at the Veeteretz Performances on Saturday. Congratulations to Kalyna for their performance of Barynnya which won best choreography and most outstanding performance in their category. Congratulations to the Kvitky and Vesna girls for scoring gold in, for many of them, their first live audience dance performances. Sontse, you were wonderful with your fancy footwork and we are proud of your bronze medal performance. Everyone did amazing!
If you'd like to order pictures from the performances (since we weren't allowed to take our own) Visit Borsellinophoto.com I will have 15 action shots for the website I'm excited to share.
Year End Show Tickets
are available for purchase on our website under the SHOP NOW tab at the top, or the Purchase Year End Tickets Quick Link. Sorry there's no "add to cart" feature, you'll need to check out for as many adult tickets in one transaction (use the drop down question to tell us how many 0-5 year olds you're bringing) and then in a separate transaction you'll purchase your youth tickets - yes dancers will each need a youth ticket as well. You can also purchase Show Only tickets, meaning you will not receive a lunch. The deadline for Lunch tickets is May 6 and the deadline for Show Only tickets is May 13, and there will be some available at the door too.
UFest
Saturday May 28 for the dancers in Vesna, Sontse, Kalyna. Time TBA.
Dancers United for Ukraine T-shirts
For anyone who ordered, they will be available on Tuesday and Wednesday at dance. Bring your order confirmation email so we know which ones you purchased. Thanks!
ULAS St. Basil's Dance Hoodies
we have Russel Hoodie sizers for trying on. In order to have these printed by Ufest, please bring cash or cheque or etransfer this week if you want one - to ulas.info@gmail.com We can order more if there are other supporters (parents/alumni) who'd like to buy them too...I'll put them in the store as well.
They're black RUSSELL hoodies with white logos - $35 for adult sizes or $30 for youth sizes includes GST.
2022/23 Season Plans
We should have a good idea for a schedule and class lists for next year within the next few weeks. A reminder that since we missed one week in January, we're extending classes into May by an extra week. Stay tuned for Ufest rehearsal updates (which might be a different day/time than our regularly scheduled class, just before Ufest. Exciting things ahead...Have fun at your Gala performance on Friday night, Kalyna families.
April Update
Purdy's
Thank you everyone who bought or participated in our Purdy's fundraiser, we earned $485 towards costumes and festival fees. Here are the three final performances we have planned for the season, there shouldn't be any other surprises. Also, if you haven't completed your volunteer role for the season, please connect with Katrina to either volunteer at the Year End Concert OR help organize dance sweatshirt sales.
Veeteretz Festival
Saturday April 30, 2022: (Tentative Times, could shift two hours either way):
VUDF Veeteretz Ukrainian Dance Festival, Fort Saskatchewan - Dow Centennial - all classes except Zirka
*All dancers must arrive dressed and ready to perform 1.5 one and a half hours prior to scheduled performance times. Please be prompt and respectful of arrival times as the program may run ahead of time and we want to ensure sufficient time to practice, adjust, and secure costuming.
Saturday May 14 - Year End Concert and Lunch - all classes
Saturday May 28 UFest - For the dancers in Vesna, Sontse, Kalyna. Time TBA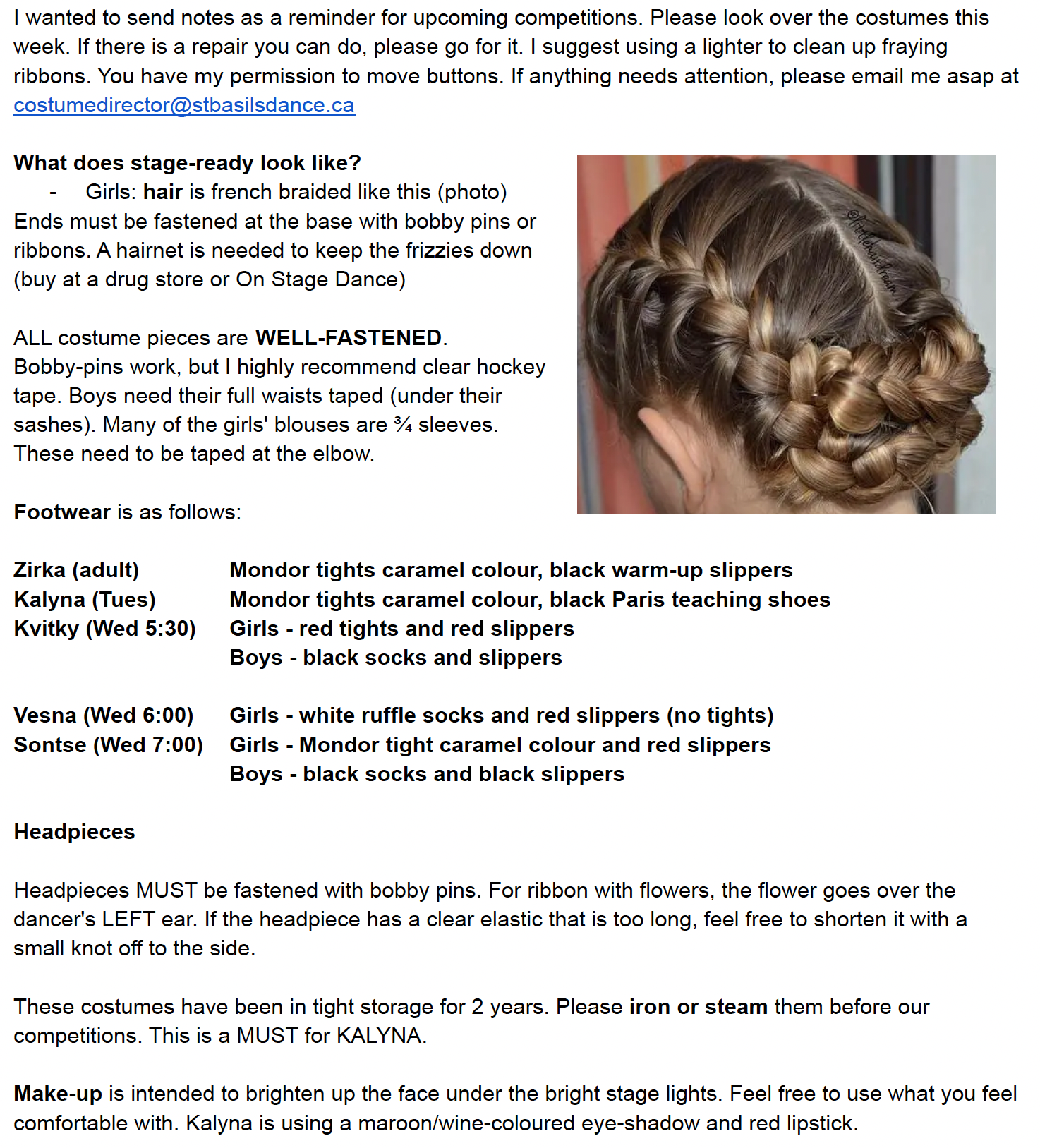 March Update
Welcome to our new dance families. An email with a March Update was sent to all families today. Please answer the questions in the google form to your best ability. I'll post it here as well. Make note of the important dates in your calendar - we appreciate your "go with the flow" attitudes this year, it's both been an overwhelming and refreshing kind of season, hasn't it?
The March Newsletter Update Google Form is right here: https://forms.gle/oXhh6kqKePQXEnjv6
Purdy's chocolate fundraiser deadline is coming up, on Monday (might be Sunday at midnight) so make sure you share this link and treat some-bunny if you want to.
For now, feel free to support Dancers United for Ukraine by participating in their clothing fundraiser here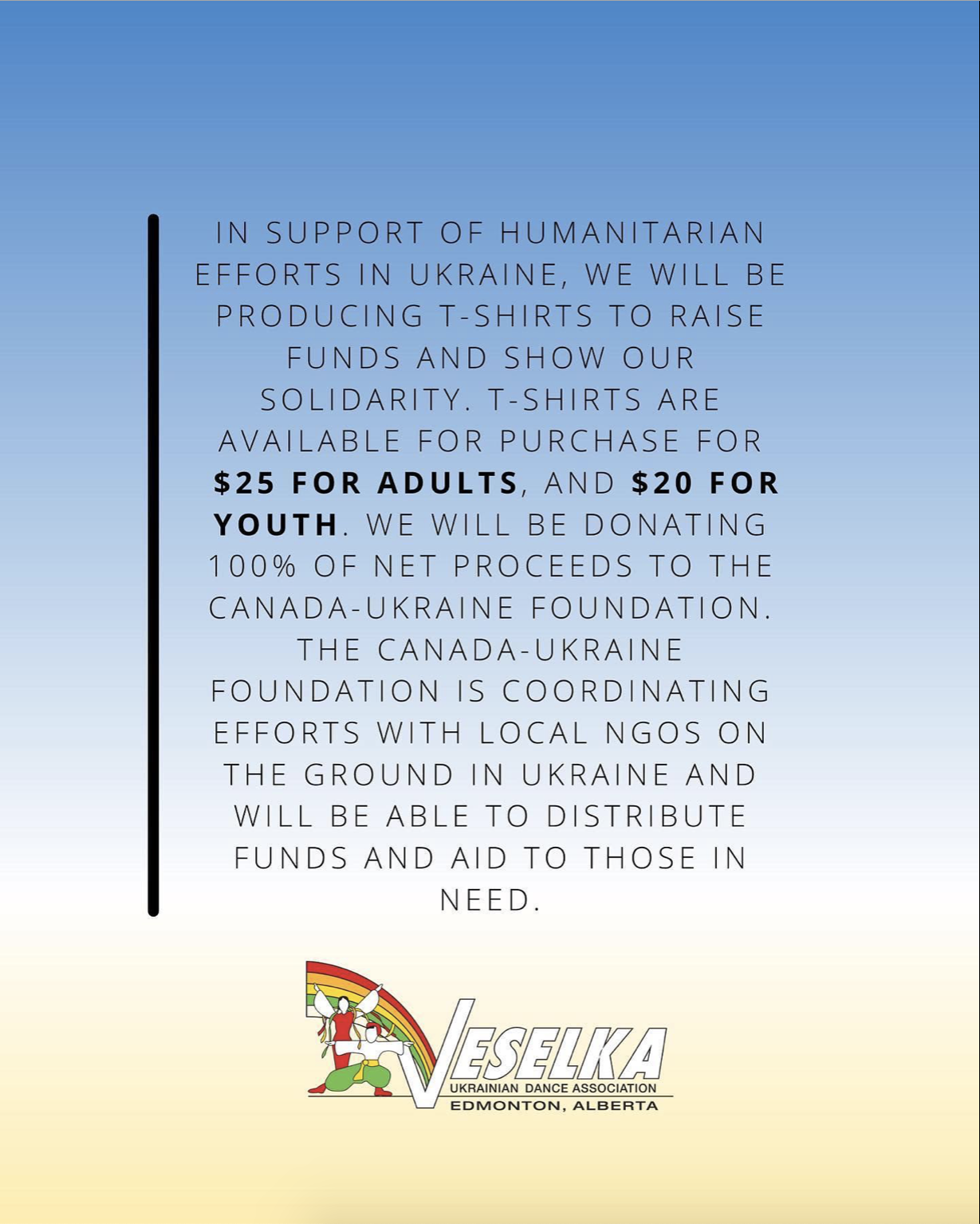 Update for January - classes delayed one week
The volunteer board voted to delay classes one week (like schools) and extend the semester one extra week into May instead of hosting online classes this week. We plan to see yoyu/your dancer next Tuesday or Wednesday healthy, masked, sanitized, and distanced as always. We got this team!
Another round of restrictions. All I can say is I'm glad we didn't spend TOO much time worrying about a January performance.
Please continue collecting refundable containers. Download this free app we've signed up with and you can Skip the Depot. https://app.skipthedepot.com/ula
https://www.albertahealthservices.ca/assets/info/ppih/if-ppih-covid-19-school-journey-a-symptoms.pdf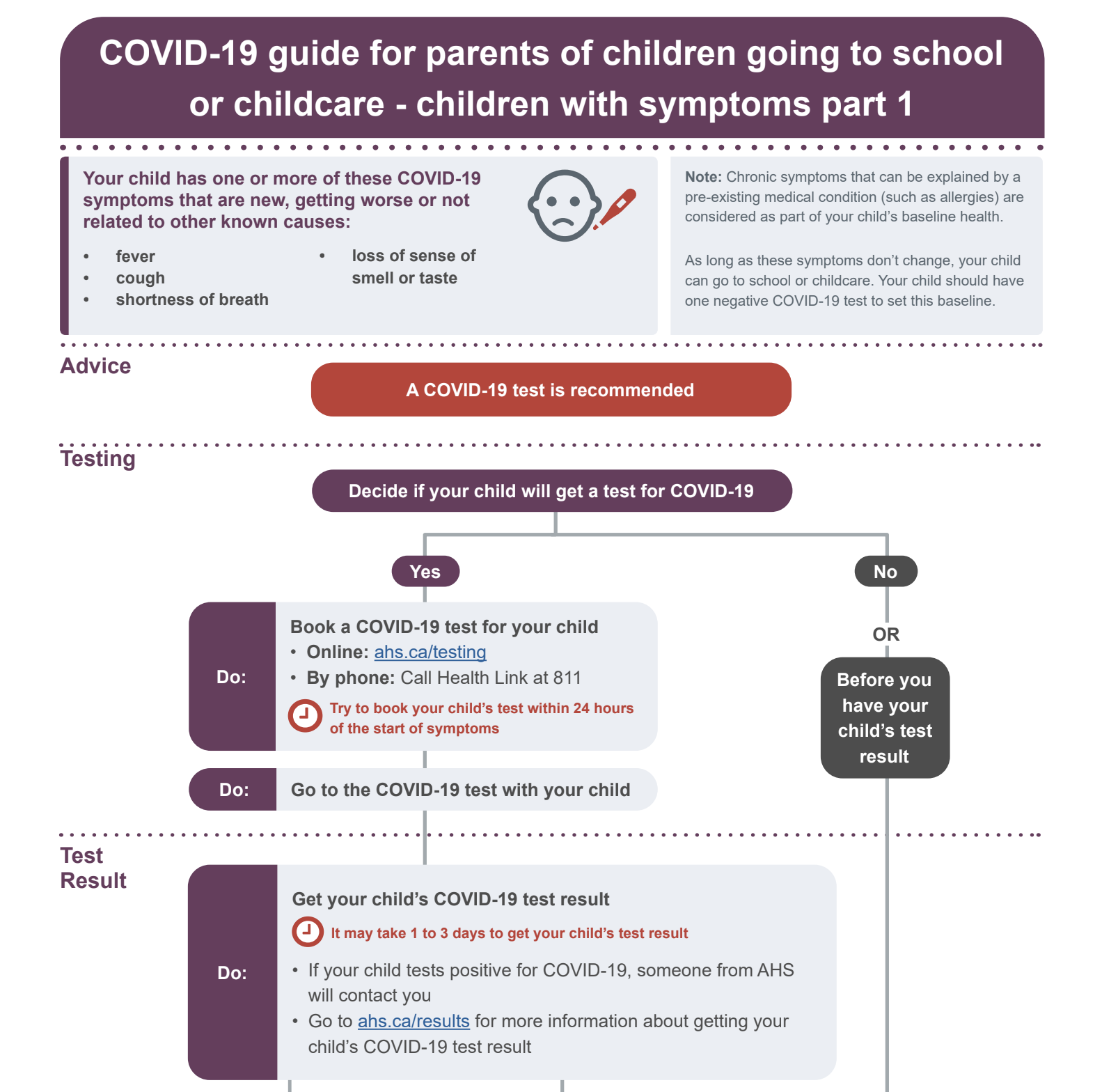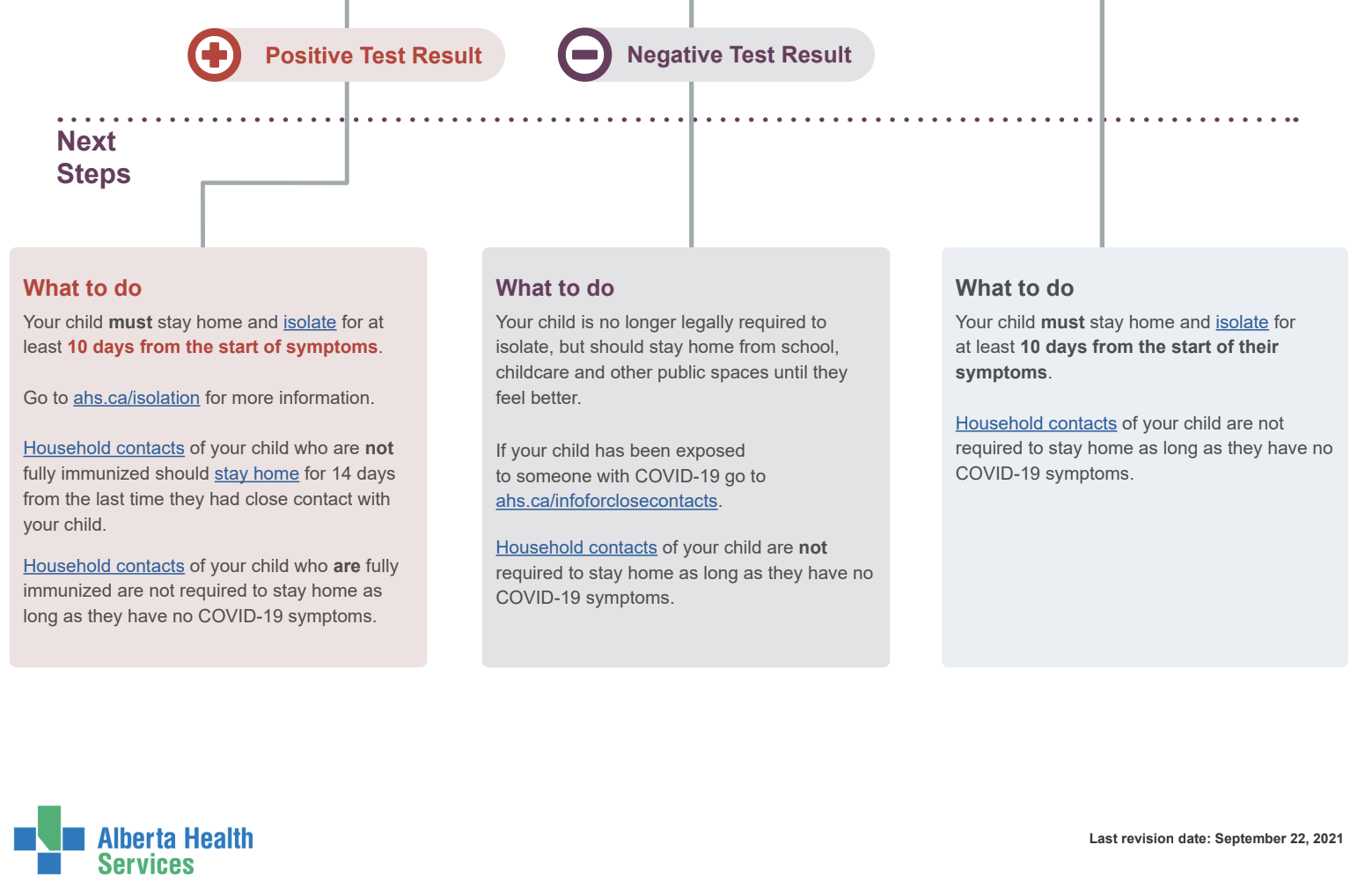 Please like us on Social Media (Instagram and Facebook). This is our main method of advertising, and more interaction means a wider range of people will learn about or organization. Classes still have a few slots that we would LOVE to fill!
Septmember class time changes:
Tuesday:
Kalyna - 5:30 - 7:30
Zirka - 7:30 - 9:00
Wednesday:
Parent/Tot - 5:00 - 5:30
Kvitky - 5:30 - 6:00
Vesna - 6:00 - 7:00
Sontse - 7:00 - 8:00
Registration is still open and we are ready to welcome you back! All public health guidelines will be followed and rest assured, the health and safety of our community remains top priority.
Please see Schedule and Tuition for more information.
New dancers, we'd love to have you. Contact Our President Lynne if you have any questions.
Mark your Calendar: Annual General Meeting
Each family please send one representative our virtual AGM. We promise to keep it short, sweet, and helpful! You're invited:
September 23, 7:00PM
The volunteer executive board positions are up for election each year, so if you have a little time, a little motivation (registrations, families, event planning) no experience necessary. We would love extra hands for a smooth year.
Fundraising
Please continue collecting refundable containers. Download this free app we've signed up with and you can Skip the Depot.

If you'd like to enquire about starting in Semester 2 of our program in 2022, please send us a note.
So register your dancer today. If you're bored, make some perogies. Watch some past performance videos.
Our website can advertise for you. Make any donation to ULAS and we'll use your logo on our site.
Email our website coordinator. See the St. Basil's Cultural Centre ad for example.