Year End Dance Info
If you're setting tables, please arrive at 3:00PM
If you're in Kupalo, please arrive dressed and "dance ready" between 3-3:30PM
For all other dancers, please arrive pinned, braided, taped "dance ready" at 4:00PM
The doors will open at 4:30PM, so will the cash bar, and the dance will start at 5:00PM
Dinner to follow.
Show only tickets are available at the door for $20/Adult, $10/Youth, and Free for ages 0-5 year olds.
There will be not be a seating plan.
Thank you for supporting St. Basil's School of Dance!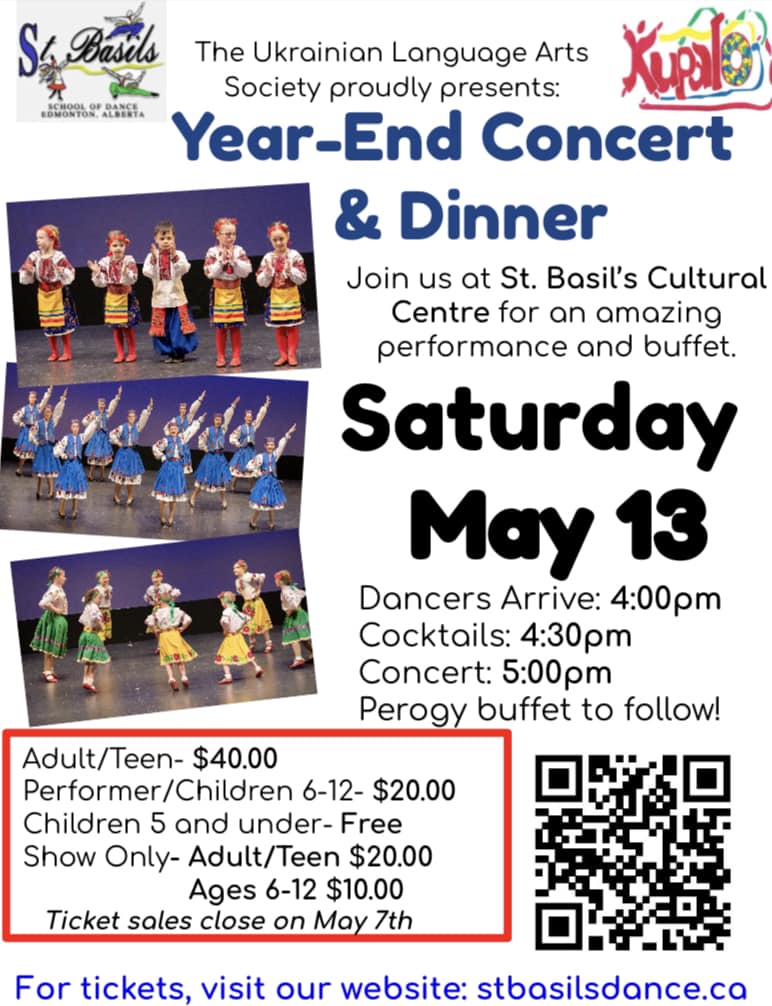 UFEST Performance Time
Ufest takes place at Borden Park every year. Neighbourhood parking is limited, but parking is available at Northlands for a small fee. Kuplao, Zirka, and Sontse (our three oldest groups of dancers) are performing only. Please arrive at Borden Park fully dressed and ready to dance at 10:00AM to be ready to perform at 11:00AM. Bring some spending money to support the local vendors and food trucks and feel free to stay the whole day as there are 2 stages and back to back performances until late in the evening. For more info see their website
MC: 11:00-11:02 am: 2 minutes (MC Vasyl Yavorksy)
ACT 1: 11:03 - 11:16am: 13 minutes / St. Basil's School of Dance and Kupalo / Main Stage / Continuous performance
SATURDAY MAY 27, 2023
Bukovynka 3:20
Zirky 3:15
Tumba 3:17
Volynyachka 3:13
Year End Concert Tickets are available
Click SHOP NOW on our banner or the Quick Link to our store. We are sorry RAMP has not built us an add to cart function yet, so you need to purchase your Ages 13+ tickets separately from your Youth 6-12/Performer tickets. My apologies in advance for extra transactions.
We are looking forward to seeing the dancers ready to go in costume at 4:00PM, the doors will open to the hall (pre-arranged tables) at 4:30. Cocktails will be served then. The show starts at 5:00 sharp with dinner to follow.
Because many of our board members are dancing, we require lots of help setting up ensuring a smooth evening. Please register someone from for family of a quick little shift at the function. From putting the paper and crayons on the tables, to selling drink tickets, to checking names off the list and handing out meal bracelets, to helping pin and prep the children, we need your help. Thank you for signing up at
Happy Spring Break

There are no dance classes during Spring Break.
Picture Day will be Thursday April 20 from 5:45-8:00PM. More details will come, including arrival times for each group next week (typically youngest to oldest)
Thanks to everyone for participating in our successful $780 Purdy's campaign. Please pick up your orders during dance next week (Apr 4 and 5).
Pyrohy dinner at the Cultural Centre on Saturday, April 1. Kids 6 and under are free, 7+ are $10 and Adults are $20 for tickets at the door. Supper runs from 4:00 pm -7:00 pm OR until we run out of food. Check their Facebook event for more info.
Veeteretz Festival in Fort Saskatchewan
Thursday, April 27, Saturday, April 29 and Sunday, April 30, 2023
We have the tentative schedule for our performances at this festival.
Please try to keep the whole weekend open in the event one of our dances is selected for the "all stars performance" (Ukrayinska Mozaika) We don't find out until late Saturday early Sunday, and the show is Sunday at 1:30PM.
The Festival is held at the Dow Centennial Centre, Sherri Cultural Pavilion. It has lots of parking. Typically there is a fair behind the centre, for a small entry fee you can enjoy food trucks, contests, and fun games for kids while you wait. Might only be Saturday and Sunday.
Dance programs can be purchased when you arrive, and you can pre-purchase a photography package too.
Fort Saskatchewan
8700 84 Street
T8L 4P5
Please arrive 1.5 hours before your scheduled performance. Meet Trish at the indoor soccer turf green space.
The schedule has not been finalized and could change slightly.
Thursday April 27
2:45PM Kvitky (Wed 5:30PM class)
3:50PM Tomu Kosa (Kupalo)
6:25PM Barynnya (Kupalo)
8:00PM Bukovynka (Kupalo)
Saturday April 29
11:00AM Druzi Vesna (Wed 6:15PM only Lucy, Naomi, Renee, Zorinna, Delilah)
2:05PM Tumba Sontse (Wed 7:15PM class, Transcarpathian)
3:15PM Volynyanochka (Kupalo)
6:25PM Zirky (Adults, first dance only, Poltava)
Sunday April 30
9:45AM Sontse (Wed 7:15PM class, Poltava)
10:55AM Hutsulka Vesna (previously the Monday class, Maelle, Zoey, Ava, Ilyria)
1:30PM All stars show.
Any questions, please just ask.
See our quick link above to travel to the Ramp Registration Website. Create an account, register yourself first (you'll assign yourself the parent/guardian, then register your child/ren). Prices and class times are listed here. We would love to have you finish the season with us.
SAVE THE DATES
Veeteretz Festival in Fort Saskatchewan Thursday, April 27, Saturday, April 29 and Sunday, April 30, 2023
Year End St. Basil's Dance Performance Saturday May 13 Time/Format TBA
UFest in Edmonton May 26 and May 27, 2023
St. Paul Festival for Kupalo only
There might be a few more performance opportunities, communicated well in advance.
| | | | | | | |
| --- | --- | --- | --- | --- | --- | --- |
| Group | Day | Time | No. of Classes | Age | Experience (Yrs) | Price |
| Rosa | Monday | 6:00 - 7:00 | 12 | 6-10 | 0-3 | $176 |
| Zirka (Adult) Performance** | Tuesday | 7:45 - 9:15 | 14 | 18+ | 0-60+ | $264 |
| Viter | Wednesday | 5:00 - 5:30 | 14 | 3-5 | 0-1 | $169 |
| Kvitky | Wednesday | 5:30 - 6:15 | 14 | 5-6 | 1-3 | $185 |
| Vesna | Wednesday | 6:15 - 7:15 | 14 | 6-8 | 4-6 | $212 |
| Sontse | Wednesday | 7:15 - 8:15 | 14 | 8-12 | 5-7 | $212 |
| Zirka (Adult) Recreation | Wednesday | 8:15 - 9:45 | 14 | 18+ | 0-60+ | $264 |

January Update and Winter Concert
Winter Concert
After a two year Covid break we are happy to share that St. Basil's Parish Praznyk (the Feast of St. Basil the Great) is back and that our Winter Concert will be featured as part of the celebration. Praznyk has traditionally been our opportunity to showcase our dancers for the Parish that supports us and an opportunity to advertise to new families. This year, rather than choosing a few groups to perform, everyone has been invited! You and your guests are welcome to join for the whole event, or for the portion your schedule allows.
For those who wish to attend the whole event, the schedule is:
Church, 10:00am - 11:30am. You do not need to be Ukrainian Catholic to attend. All are welcome. Bishop David is scheduled to preside over the Liturgy. After Church everyone is invited to move to the Cultural Centre.

Praznyk Luncheon, 11:50am - 1:00pm. Open seating. Grace will be said once people have settled down at a table. It should be between 11:50am and 12:00 noon. Following grace, St. Basil's new Ukrainian Choir (featuring our own Teacher Victoria) will be performing). If your dancer wants to hear Victoria, please feel free to bring them to the ballroom before heading upstairs.
Dancer arrival time, 12:15. Dancers are expected to be Stage Ready upstairs at 12:15pm. There is no eating in costume. If you are not attending church please feed your dancer before coming to the Cultural Centre. Please do not leave your boots at the front doors like usual. Wear them upstairs. Dancers can leave their boots with their jacket, in the coat area upstairs.
Lunch, 12:00pm-1:00pm. Lunch is provided by donation to help cover the cost of the meal. Depending upon the number of people in attendance, the buffet will likely close between 12:35 and 12:45.
The menu is:
Country Fried Chicken (Gluten),
Roast Potatoes,
Mixed Vegetables,
Salad,
Dessert.
To help ensure that we have enough seating and enough food for those who choose to eat, please fill out the linked survey.
We recognize that many dancers can not eat before dancing or they will make themselves sick on stage. If your dancer is one of these and will be eating lunch after 2:00pm, lunch can be held for them. Please indicate the number of plates you will need in the linked survey.
Break 1:00pm - 1:15pm. After lunch is served there will be a short break to allow anyone who chooses not to stay for the concert time to leave and allow anyone not attending lunch to be seated.
Concert, 1:15pm-1:50pm. Seating may change based on the survey responses, but right now the plan is to have auditorium style seating next to the stage with tables behind. People are welcome to sit at either.
Parking is available in the parking lot, in the two empty lots to the east of the Cultural Centre and on the street.
Dress Rehearsals (January 23, 24th and 25th)
The week before the concert dancers will have a costume check. Makeup does not need to be done and hair does not need to be braided for the costume check. The normal ponytail or bun dancers wear for class is fine.
Costume check details are as follows:
Monday January 23
Rosa - please wear your costume to class and plan on staying 15 minutes after class for any adjustments.
Tuesday January 24
Kupalo - you will be told next week which costume to wear. Please watch your group chat
Zirka - please confirm with Trish and/or Sherri on January 19th
Wednesday January 25
Viter - please wear your costume to class and plan to stay 15 minutes after class for any adjustments.
Kvitky - please arrive 15 minutes early in costume
Vesna - please arrive 15 minutes early in costume
Sontse - please arrive 15 minutes early in costume
As a reminder, these are the costume requirements:
ALL costume pieces are WELL-FASTENED. Safety pins work, but we highly recommend clear hockey tape. Boys need their full waists taped (under their sashes/belts). Some of the girl blouses are ¾ sleeves. These ones need to be taped at the elbow. If you are unsure, we can demonstrate this for you at costume check.
Footwear:

Rosa (Mon. 6:00)

Mondor tights caramel colour, red slippers

Kupalo (Tues. 5:45)

Girls: Mondor tights caramel colour, black Paris teaching shoes

Boy: black socks, black slippers

Zirka (Tues. adult)

Mondor tights caramel colour, black warm-up slippers

Viter (Wed. 5:00)

Girls: red tights, red slippers

Boys: black socks, black slippers

Kvitky (Wed 5:30)

Girls: white socks, red slippers

Boys: black socks and slippers

Vesna (Wed 6:15)

Mondor tights caramel colour, red slippers

Sontse (Wed 7:15)

Girls: Mondor tight caramel colour, red slippers

Boys: black socks, black slippers
Headpieces
Headpieces MUST be fastened with bobby pins. For ribbons with flowers, the flower goes over the dancer's LEFT ear. If the headpiece has a clear elastic that is too long, feel free to shorten it with a small knot off to the side.
Some of these costumes have been in tight storage for 2 years. Please iron or steam them before our performance.
Make-up is intended to brighten up the face under the bright stage lights. Feel free to use what you feel comfortable with. Kupalo is using a maroon/wine-coloured eye-shadow and red lipstick. It does not need to be done for costume check.
Winter Registration:
We will be opening Winter registration next week. If you know anyone who wants to join, please send them to our website www.stbasilsdance.ca next week to register. Winter choreography begins January 30th.
Cultural Centre:
Thank you for your efforts and understanding in keeping the doors closed and locked and in keeping your boots tucked to the side and out of the walking path. Your diligence is much appreciated!
The link for the survey is: https://docs.google.com/forms/d/1AS7VUdArjJIU5EZFOM-yCeNh48rnnBmpFvPEDNAeKXI/

November ULAS Update
Thank you to everyone who participated in our Spooky Saturday dance, it was a blast! We hope to see you there next year.
Parent watch night is scheduled for the week of December 12-14 - so for the last few minutes of class, our instructors will invite us to see how our children are progressing through their dances. This will also be costume hand out night, so bring your dance bag if you have one (we have ones to lend you).
Also, please bring your refundable deposit, written to ULAS memo costumes, and we will return it to you when you bring back your costume. $100 per costume.
Finally, we're selling black St. Basill's Dance T-shirts and hoodies to raise funds for our competitions AND to advertise our school when we're out and about. Click the link to go to our store to shop now. November 29 is the last day to place your orders, sooner is better. Thanks for participating!
October ULAS Update
Wednesday dance groups - you're welcome to wear a costume to dance on October 26!
Spooky Saturday Halloween Dance!
Tickets are available in our store:
Menu bar above OR click the "Shop Now" button
Dance Only Ticket for Adults and Youth are available. Children under 5 are free.
Mock-tails will be available for purchase. Buy your tickets before October 28 cutoff. No tickets will be available at the door.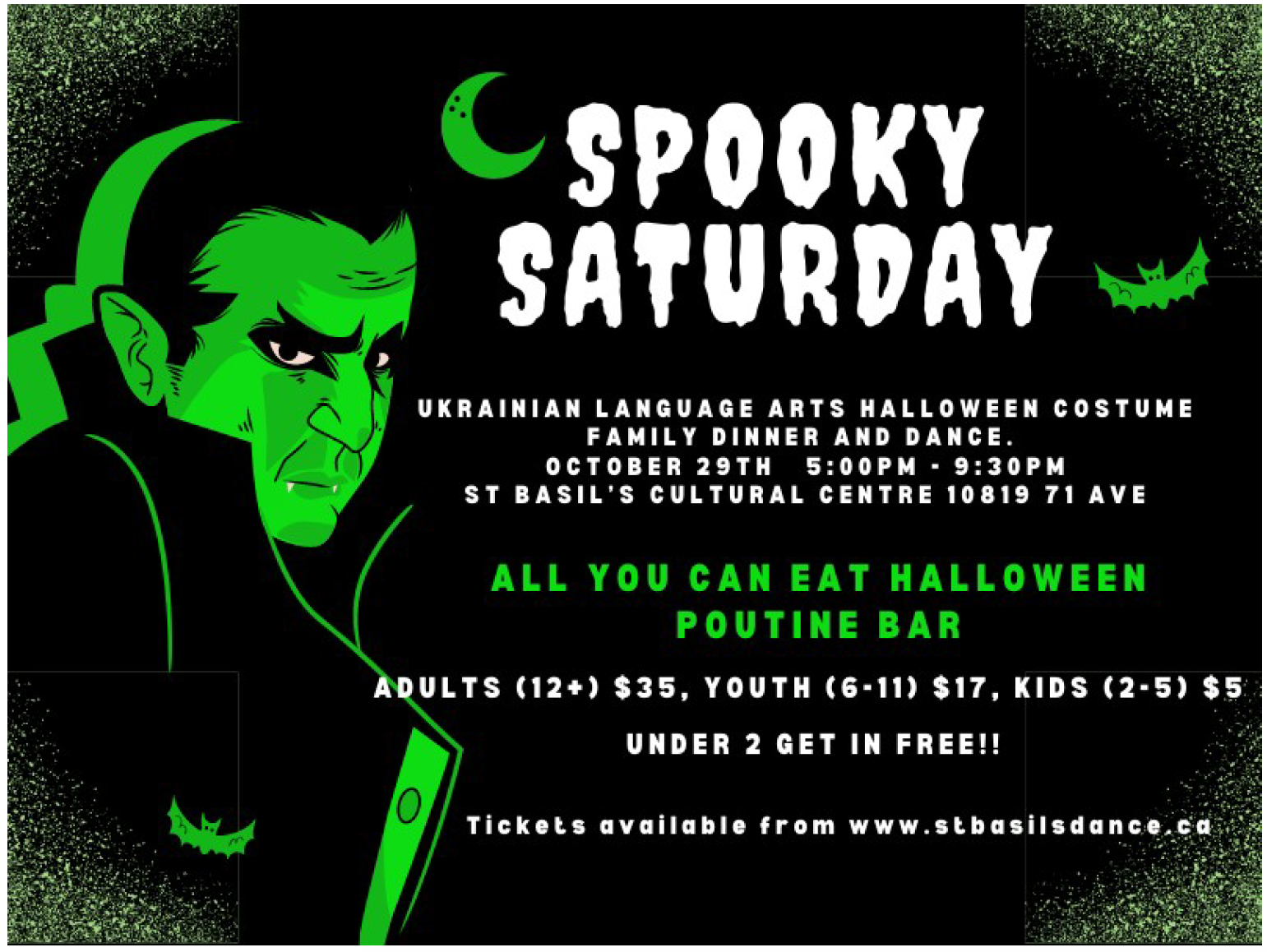 Thanks for attending our AGM. Welcome to our new board members.
Welcome to our new volunteer coordinator, secretary, Kupalo Dance Director!
Our new meeting night for board meetings is Thursdays, if you ever have questions or would like to sit in on one, please reach out.
This week (October 17, 18, 19) we will be creating our Art Cards for Kids projects, with the help of the Kusiek Family. Please bring markers or pencil crayons, or wax crayons and parents are welcome to help their children with their designs. We will use the first 10 minutes of each class and then please consider staying for a few minutes after your class to finish them up.
What we will do is send these posters in to Art Cards for Kids, we will obtain proofs (sample cards) with a website and access code to order cards and puzzles and plaques and Christmas ornaments for friends and family. St. Basil's Dance will earn 40% in value on each purchase, so please, consider these your Christmas cards this year and multi purpose beautiful blank on the inside cards.
Please bring markers or pencil crayons, or wax crayons and parents are welcome to help their children with the artwork. We will use the first 10 minutes of each class and then please consider staying for a few minutes after your class to finish them. We won't be sending any home to complete.
WELCOME to another season of Ukrainian Dance
Newcomer and Financial Assistance Scholarships
The Ukrainian Language Arts Society (ULAS) has offered full tuition scholarships for dancers at St. Basils School of Dance and Kupalo for the 2022-2023 dance season.
We have selected families who have recently immigrated to Canada and who demonstrate financial need. Through this program we hope to build community and help newcomers to have positive recreational experiences thanks to our generous donors.
Our dance season runs from September 2022 to May 2023.
Dance classes are ONCE A WEEK on EITHER Monday, Tuesday, OR Wednesday evenings.
All classes take place at St. Basil's Cultural Centre in Edmonton at 10819-71 Ave NW.
There are performance opportunities throughout the year (winter concert, year end concert, festivals, etc.)
Costumes are rented to all dancers and returned at the end of the season.
Annual General Meeting Invitation
Each family please send one representative our virtual AGM. We promise to keep it short, sweet, and helpful! You're invited on
Thursday, October 6, 2022 at 7:00PM at St. Basil's Cultural Centre
The volunteer executive board positions are up for election each year, so if you have a little time, a little motivation (registrations, meeting minutes, casino, event planning) no experience necessary. We would love extra hands for a smooth year.
New Registrations
Our new registrations packages are live! Our NEW Schedule and Tuition page is up-to-date.
Year End Show
Thank you to our awesome instructors, Trish and Stephen, for preparing the students for performing infant of their family and friends. We had a beautiful morning, a beautiful lunch - thank you to St. Basil's Cultural Centre for our first perogy lunch in a long time!
UFest
Keep the weekend of May 28, 2023 open for participating in this awesome Ukrainian cultural event.
ULAS St. Basil's Dance Hoodies & T-Shirts
We have Russel T-shirt sizers for trying on. They're black and there are two versions, more fitted and less fitted.
Anyone can order, including for other supporters (grandparents/alumni) who'd like to buy or gift them too... we are just figuring out prices and then these will be available in our store for purchase until Wednesday November 2, to ensure a delivery before Christmas.
I'll put these for sale in our website store as soon as possible.
You can also order black RUSSELL hoodies with white logos - $38 for adult sizes or $35 for youth sizes, price includes GST with a zipper or $36 and $34 for a hoodie without a zipper.
Please like us on Social Media (Instagram and Facebook). This is our main method of advertising, and more interaction means a wider range of people will learn about or organization. We also need as many positive Google Reviews as possible.
New dancers, we'd love to have you. Contact Our President Lynne if you have any questions.
Fundraising
Please continue collecting refundable containers. Download this free app we've signed up with and you can Skip the Depot.

Our website can advertise for you. Make a one time $100 donation to ULAS and we'll host your logo and website link on our site.
Email our website coordinator. See the St. Basil's Cultural Centre ad for an example.