Costumes for Performances
---
General Costume Information
Our Costume Director works closely with our instructors to acquire costumes that are unique to the various regions of dance. BIG Thank you to Sherri and Tania for stepping up to organize costumes. We have been able to design and purchase embroidered costumes directly from artisans in Ukraine. The money earned from our Casino helps purchase new costumes.
We purchase our costumes and accessories in class sets. As a result, we are able to build and care for a lovely assortment of pieces that last many years. Your closets will thank us. Parents are responsible for signing costume deposit cheques during registration and for helping maintain costumes (take them off before eating!) We hand out the costumes in December and reuse our logo Costume Bags. An email regarding care instructions for each piece is sent out at the end of the year - do not fret, not all pieces require dry cleaning.
Please iron or steam costumes before performances

Thank you for bringing your deposit cheques - if you have a 2023 way to take a deposit that is easier than ordering and keeping cheques, please let us know.

Building a costume prep bag with large bobby pins, clear hockey tape and safety pins or quilting pins. Add black socks (for boys), little hair elastics (hair colour or clear). Extra lacey white socks.

Students need to come to performances with their costumes secured.

Try on costumes pieces prior to the first performance, in case minor fixes (buttons) need to happen. If it needs a repair that you can manage, go for it. We suggest using a lighter to clean up frayed ribbons. You have our permission to move buttons. If anything needs major attention, please email Sherri at costumedirector@stbasilsdance.ca


We do our best to hand out size-appropriate pieces. Sometimes modifications are needed. These are shared costumes and we do our very best to find a good fit. ULAS does not require families to purchase or make their own costumes and we hope to keep it that way with your cooperation.

The $100 costume deposit cheques are returned to each dancer at the costume return date when:

Costumes have been properly laundered or dry cleaned and
Costumes are in good condition (at the discretion of our board members)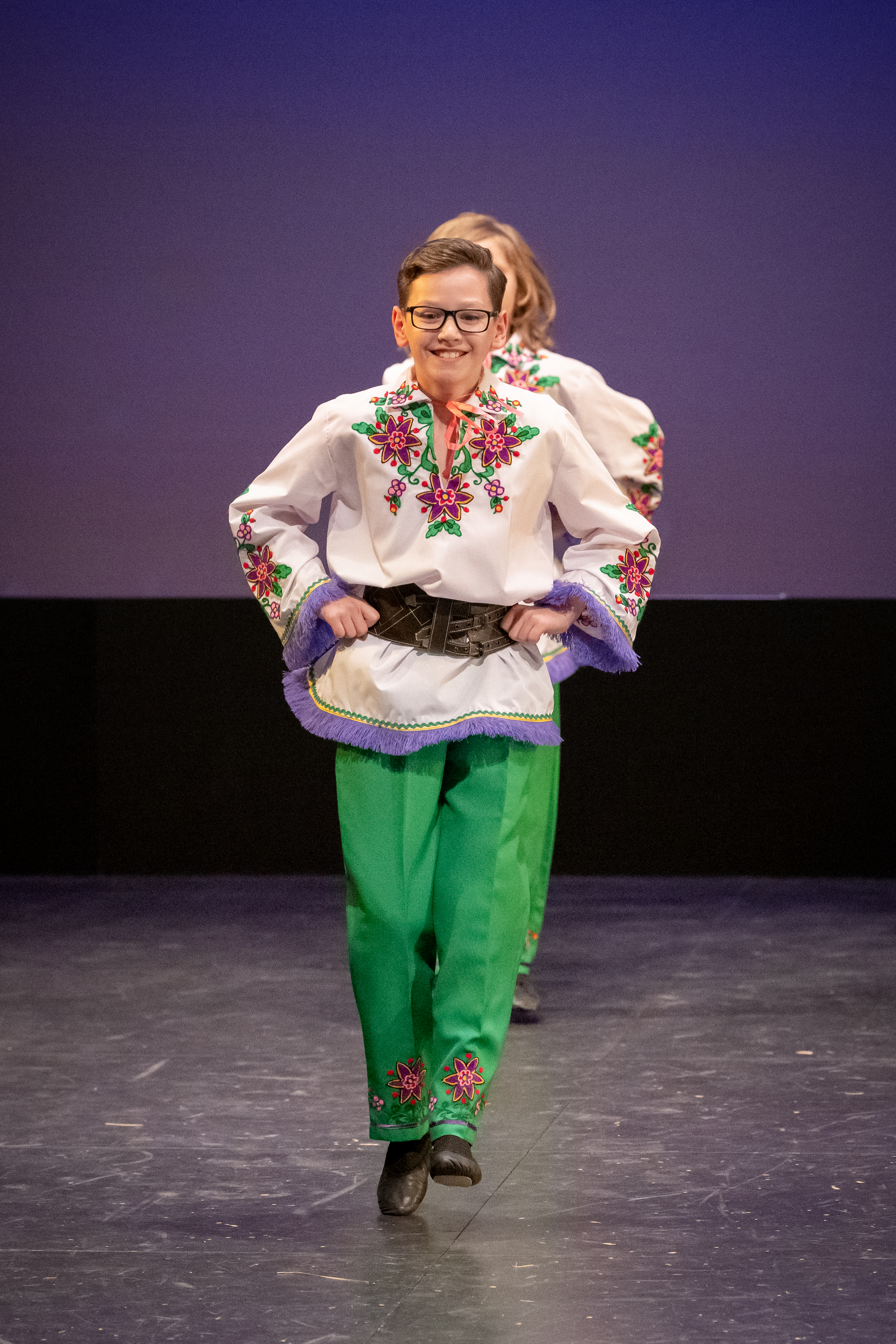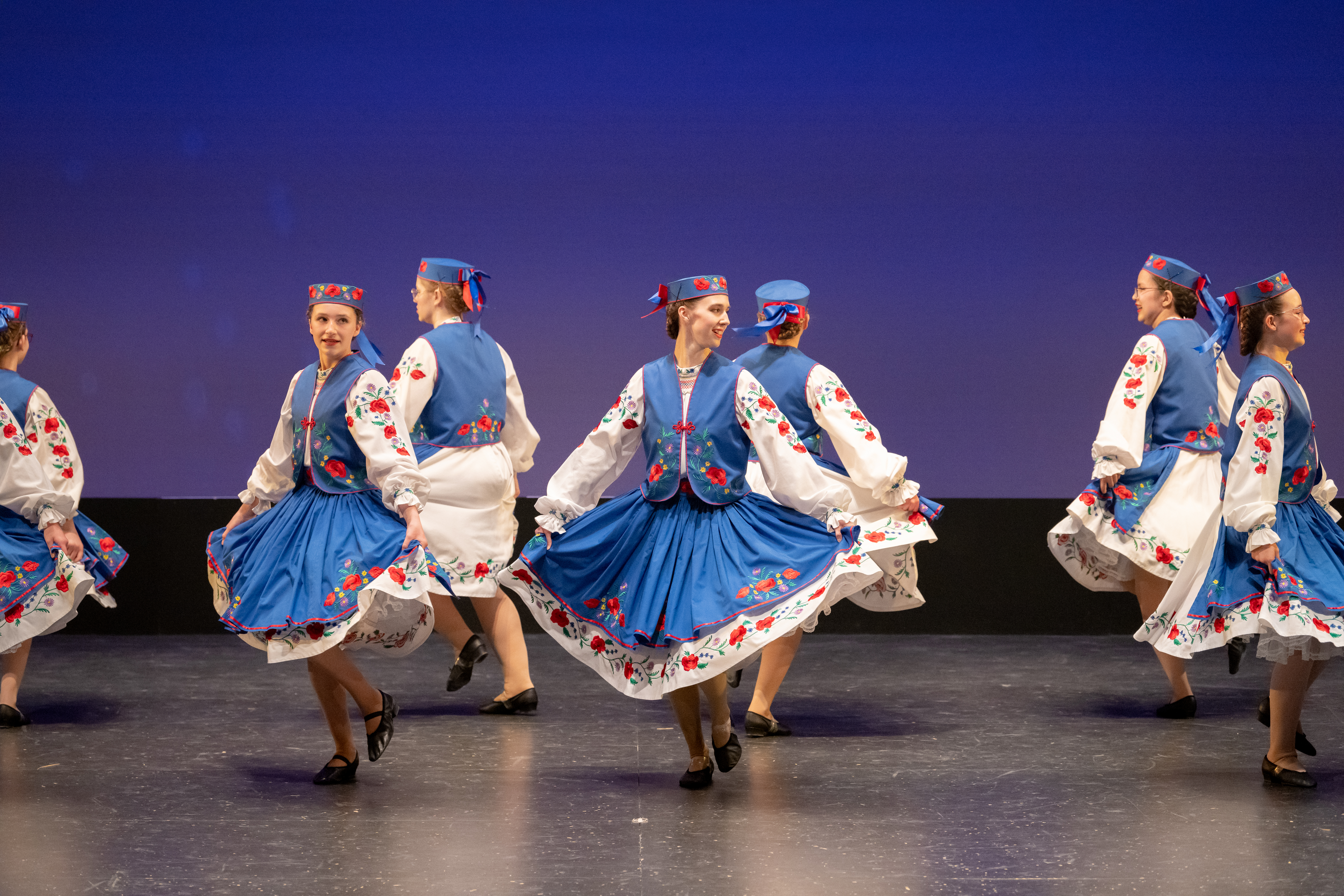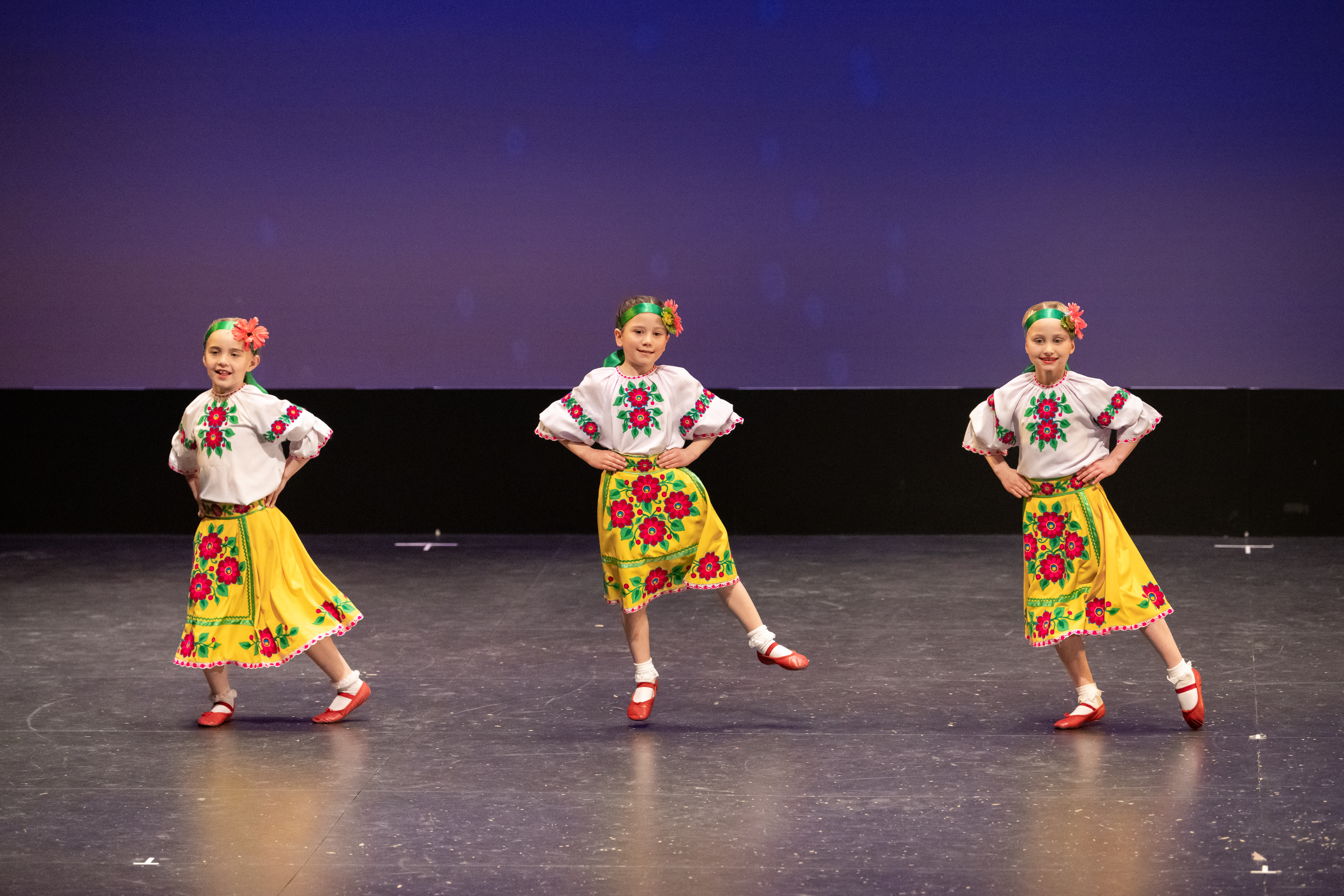 We have a 10% discount at "On Stage". Tell them you dance with St. Basil's http://www.onstageedmonton.com
United Cycle building. 7618 Gateway Blvd and our entrance is just south of the main entrance to United Cycle and up the stairs.
(780) 432-7998 or (780) 974-9919 "Starting immediately we are booking intake appointments for you to consign or donate a limited number of your "gently worn" costumes, tap shoes, character shoes or elastabooties. If you are interested please message or email us, and we will provide you with full details." - Onstage Dance wear website
Specific Costume Information
Our dress rehearsal will be used as a costume check. Sherri or Tricia will be there to teach you about pinning/taping.
Girls
Girls hair should be in 2 french braids (tucked in and secured at the back), hairnet, bobby pins to secure headpiece, make-up (stage brightening for lights, whatever you are comfortable with),
If it's too short, try parting down the middle with two low pony tails, or a low bun. French braid tutorial: https://www.youtube.com/watch?v=yzddEM0u1xA
Ends must be fastened at the base with bobby pins or red ribbons.

If you need help, Sherri would love to teach you in January.

A hairnet is needed to keep the frizzies down.

Headpieces

MUST be fastened with bobby pins. If you have a ribbon/flower, the flower is over the dancers LEFT ear. If the headpiece has a clear elastic that is too long, feel free to shorten it with a small knot off to the side.

Many of the girls' blouses are ¾ sleeves - these need to be clear-hockey-taped at the elbow.

Footwear:

Rosa (Mon. 6:00)

Mondor tights caramel colour, red slippers

Kupalo (Tues. 5:45)

Girls: Mondor tights caramel colour, black Paris teaching shoes

Boy: black socks, black slippers

Zirka (Tues. adult)

Mondor tights caramel colour, black warm-up slippers

Viter (Wed. 5:00)

Girls: red tights, red slippers

Boys: black socks, black slippers

Kvitky (Wed 5:30)

Girls: white socks, red slippers

Boys: black socks and slippers

Vesna (Wed 6:15)

Mondor tights caramel colour, red slippers

Sontse (Wed 7:15)

Girls: Mondor tight caramel colour, red slippers

Boys: black socks, black slippers

Headpieces

Headpieces MUST be fastened with bobby pins. For ribbons with flowers, the flower goes over the dancer's LEFT ear. If the headpiece has a clear elastic that is too long, feel free to shorten it with a small knot off to the side.

Some of these costumes have been in tight storage for 2 years. Please iron or steam them before our performance.

Make-up is intended to brighten up the face under the bright stage lights. Feel free to use what you feel comfortable with. Kupalo is using a maroon/wine-coloured eye-shadow and red lipstick. It does not need to be done for costume check.
Boys
Boys' waists need to be hockey taped first, because if someone else accidentally steps on the pants they fall down. So tape them on and then tie the poyas

Tutorial for tying the poyas: https://www.youtube.com/watch?v=U6Ja0_ojbvI

We cannot stress enough that ALL costume pieces are

WELL-FASTENED

. Pins work, but we highly recommend

clear hockey tape.

Boys need their full waists taped (under their sashes), and ankles if they're long and baggy enough to cover.

All boys will wear black socks with black slippers and hair should be neat and out of the eyes.