Class Schedule and Tuition
---
Schedule and Tuition for the 2022-2023 Dance Season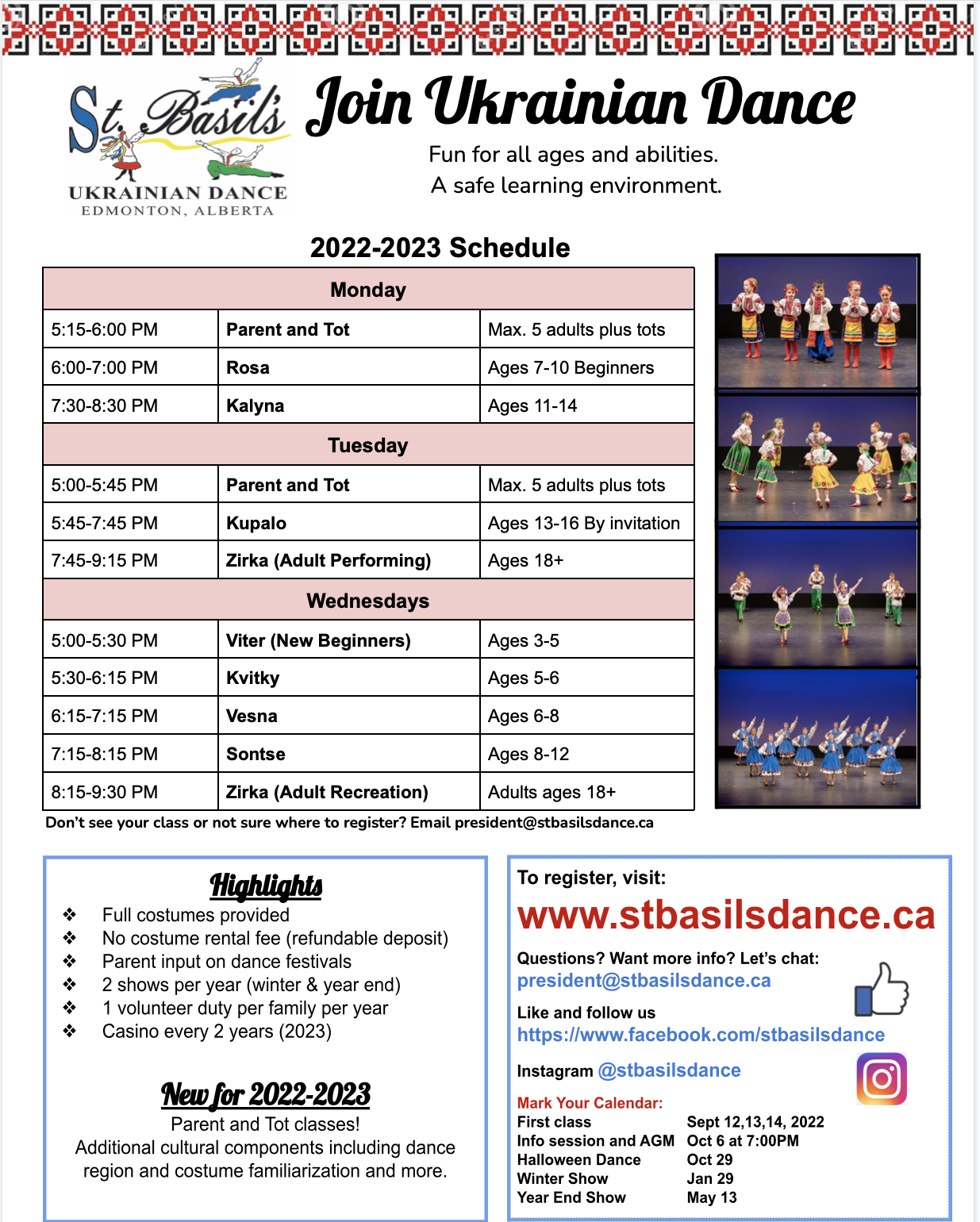 Approximate Age
Skill/Technique (in years of dance)

Tuesday

Parent & Tot
1-2 years
-
5:00
5:45
Kupalo
13-16
9-12
5:45
7:45
Adult Perform
18+
any
7:45
9:15

Wednesday

Viter
3-5
0-1
5:00
5:30
Kvitky
5-6
1-3
5:30
6:15
Vesna
6-8
4-6
6:15
7:15
Sontse
8-12
5-7
7:15
8:15
Adults Rec
18+
Any
8:15
9:30

Monday

Parent & Tot
5:15
6:00
Rosa
7-10
0-3
6:00
7:00
Kalyna
11-14
0-3
7:00
8:30
Full Schedule with Tuition for 2022-23
| | | | | | | | | | |
| --- | --- | --- | --- | --- | --- | --- | --- | --- | --- |
| Group | Season | Day | Time | No. of Classes | Age | Experience (Yrs) | Special Price | Price | Minimum # of Dancers |
| Parent & Tot | Fall | Monday | 5:15 - 6:00 | 13 | Adult & 0-3 | N/A | | $167 | 5* |
| Parent & Tot | Fall | Monday | 5:15 - 6:00 | 13 | Adult & 0-3 | N/A | Extra Child | $56 | |
| Parent & Tot | Winter | Monday | 5:15 - 6:00 | 15 | Adult & 0-3 | N/A | | $192 | 5* |
| Parent & Tot | Winter | Monday | 5:15 - 6:00 | 15 | Adult & 0-3 | N/A | Extra Child | $64 | |
| Rosa | Full Season | Monday | 6:00 - 7:00 | 28 | 6-10 | 0-3 | | $411 | 5 |
| Kalyna | Full Season | Monday | 7:00 - 8:30 | 28 | 11-14 | 0-3 | | $512 | 5 |
| Parent & Tot | Fall | Tuesday | 5:00 - 5:45 | 14 | Adult & 0-3 | N/A | | $179 | 5* |
| Parent & Tot | Fall | Tuesday | 5:00 - 5:45 | 14 | Adult & 0-3 | N/A | Extra Child | $60 | |
| Parent & Tot | Winter | Tuesday | 5:00 - 5:45 | 17 | Adult & 0-3 | N/A | | $218 | 5* |
| Parent & Tot | Winter | Tuesday | 5:00 - 5:45 | 17 | Adult & 0-3 | N/A | Extra Child | $73 | |
| Kupalo | Full Season | Tuesday | 5:45 - 7:45 | 31 | 13-17 | By Invitation | | $645 | 8 |
| Zirka (Adult) Performance** | Full Season | Tuesday | 7:45 - 9:15 | 31 | 18+ | 0-60+ | Performance | $585 | 6 |
| Viter | Full Season | Wednesday | 5:00 - 5:30 | 32 | 3-5 | 0-1 | | $375 | 5 |
| Kvitky | Full Season | Wednesday | 5:30 - 6:15 | 32 | 5-6 | 1-3 | | $410 | 5 |
| Vesna | Full Season | Wednesday | 6:15 - 7:15 | 32 | 6-8 | 4-6 | | $470 | 5 |
| Sontse | Full Season | Wednesday | 7:15 - 8:15 | 32 | 8-12 | 5-7 | | $470 | 5 |
| Zirka (Adult) Recreation | Full Season | Wednesday | 8:15 - 9:45 | 32 | 18+ | 0-60+ | Recreaction | $585 | 5 |
Please note we require a minimum number of dancers in each class to help feasibility. Not meeting the numbers below may result in combining of two classes. We appreciate you inviting your neighbours and friends to your programs and being flexible with class times.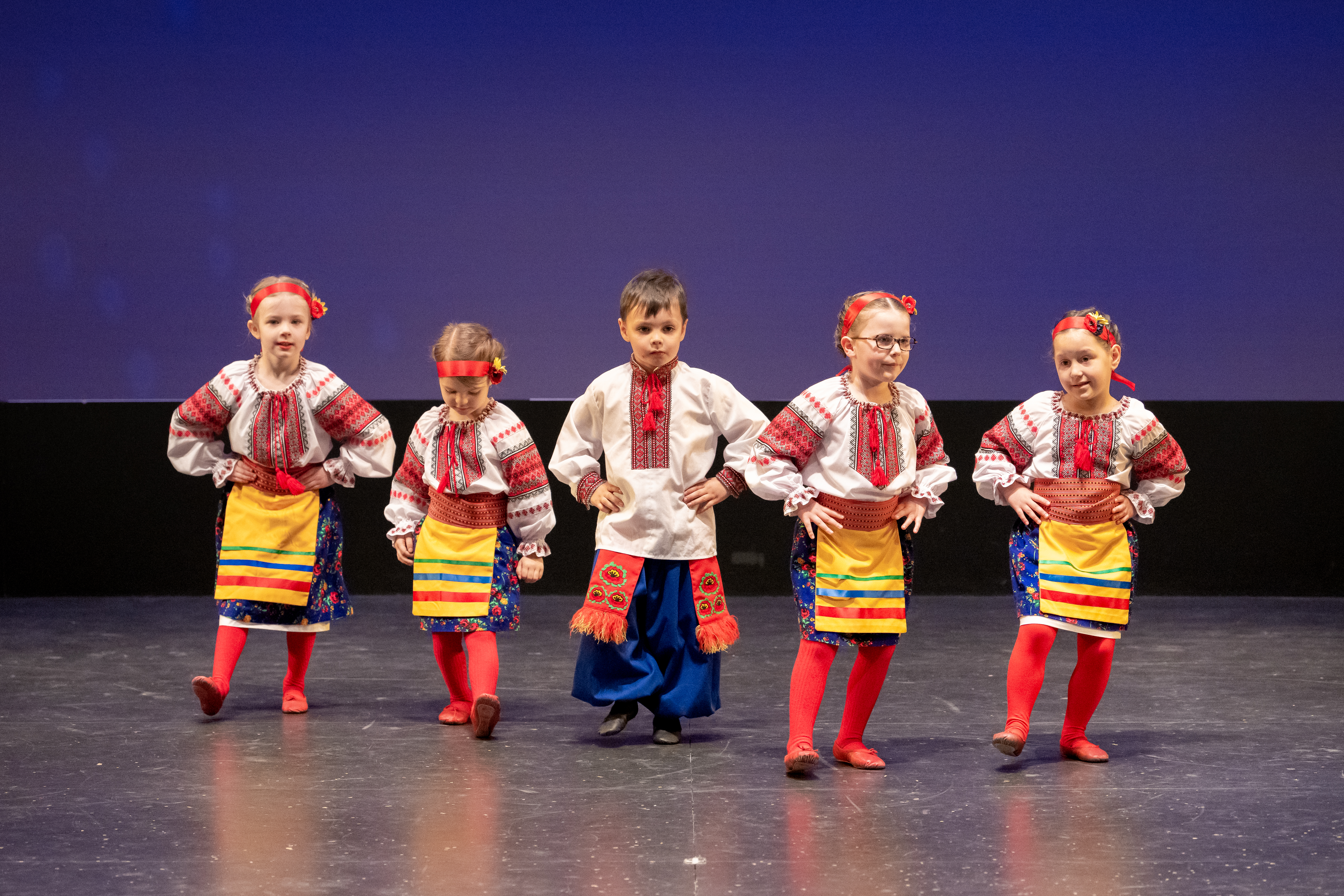 Fun fact: All of our divisions, or group names, are Ukrainian nature words which the children are learning in class.
The cost of each class is based on the number of hours of instruction and number of instructors from September - May. The Monday groups have less days and less cost.
Costs of competition fees are semi-included. Parental input will be asked for festival and competition decisions.
We run 5 fundraisers to offset the costs of costumes, performances, travel, cultural enrichment and so on (Purdy's at Easter, Perogies/Sausage from the hall, 50/50, casino, clothing sales...)
Please make all payments in a timely matter. To offset the cost of fees, there is a 2.25% fee, similar to other not-for-profit societies. Thanks for understanding. You may pay by E-transfer or cheque to avoid this fee.
Please note that a registration fee of $20.00 is non-refundable. If a student leaves St. Basil's Ukrainian Dance before the year is over, the remaining tuition will be prorated and refunded accordingly once costumes have been returned.
If you have any questions or concerns about registrations please email Katrina admin@stbasilsdance.ca or tuition please email Rachel treasurer@stbasilsdance.ca Thank you!